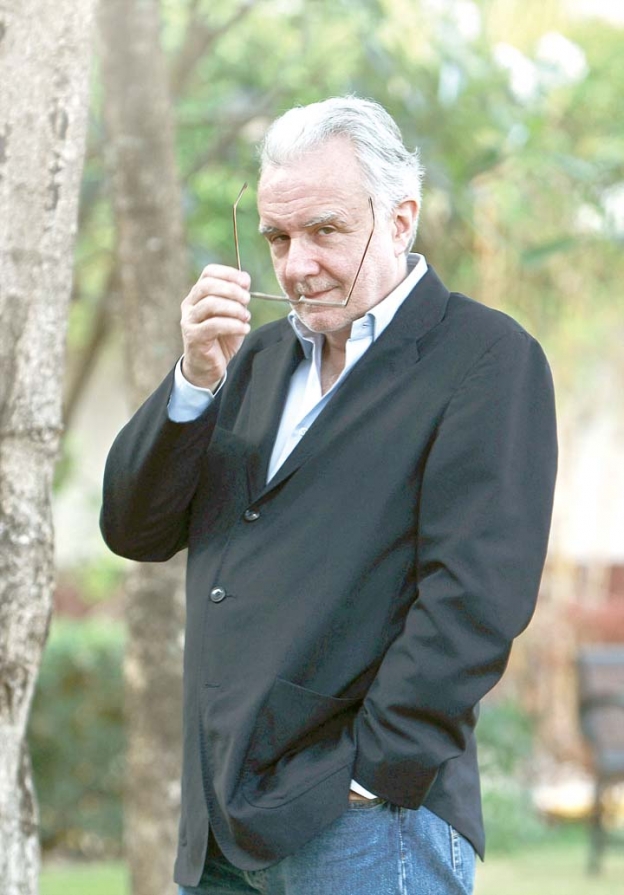 Monégasque chef Alain Ducasse visits the Philippines on a mission to help the underprivileged find new hope and livelihood by acquiring culinary skills, ideas, and expertise.
'It's not part of my mission to influence others. I would rather have other countries or people preserve their own identity.'
I had a moment of trepidation faced with the prospect of meeting Alain Ducasse, the renowned Monégasque chef and restaurateur who was in Manila just last week. After all, Ducasse is someone who knows food like the back of his hand. And, as I discovered, he prefers to speak in French rather than in English. Did I know enough about food and the nuances of food to ask him about them and to talk to him in a manner that would not be a waste of his time?
It was a relief to know that my fears were unfounded. A few minutes before our tête-à-tête at the Enderun Colleges, I talked to some student facilitators first, who assured me based on previous encounters that Ducasse was not only personable but deeply engaging, interested in the world and the people around him.
"He's coming," said a student facilitator. I heard him before I saw him, heard his confident stride before he appeared through the doorway, as he entered with some security around him and a few colleagues, one of whom was in charge of translation.
Ducasse was in a pair of jeans and leather shoes, a button-up shirt, and a soft blazer—all in the hues of blue. He wore a pair of glasses, not sunnies, but prescription glasses. Almost self-effacingly, he asked where he would sit, subjecting himself to the whims of the photographer who instructed him to sit on a green chair against a white wall for some pictures. He obliged for a few minutes, and then he moved to another chair to sit next to me.
And so began the first round of pleasantries. In French, he shared, rather profusely, though maybe that was just how French always sounded, full of feelings, almost passionate, that his Philippine visit had been spectacular, even if it was just a business trip. "Based on my observation here in the Philippines, I'm happy that more and more students are getting into culinary education," beamed Ducasse. "There's additional motivation among the students to be the best."
This chef is a staunch advocate of education, abiding by the credo that culinary skills and expertise can help people get better chances in life. This belief is materialized in Ducasse Education, an organization that hopes to equip aspiring chefs with the training needed for them to be globally competitive. He has been known to grab every opportunity to share his knowledge generously. In 2010, he made his and his team's mentorship available for underprivileged women in Paris through "Women with a Future," an initiative that sought to train such women through a special culinary program, which included apprenticeships in Ducasse's restaurants.
Here in the Philippines, the Ducasse Institute Philippines at Enderun Colleges also launched "Youth with a Future." This program aims to mentor and educate beneficiaries (mostly former street children) from the Tuloy Sa Don Bosco foundation through culinary classes, internships, and job opportunities.
"The culinary world has the potential to improve people's lives through better life skills," said Ducasse. "This is our way of reinstating people back into society in a productive way. By providing them with education, we give them a chance to have better jobs and teach them to be financially independent. It's really natural for me to help others and to transmit my knowledge to people who need it most."
Despite his international acclaim, Ducasse is likely to brush off any ideas about being influential. "It's not part of my mission to influence others," he said. "I would rather have other countries or people preserve their own identity." To explain, he recalled one particular experience in Japan: "When I was in Japan, there was this guy who tried to offer me some American coffee. I replied, 'I don't even want American coffee here in Japan. Can you show me a place that serves authentic Japanese coffee?'" The Japanese man was stunned, as far as Ducasse could tell, but eventually he relented, directing Ducasse to a small, rundown coffee house that served Japanese coffee. "It wasn't a fancy place but the experience I had there was authentic and memorable," he beamed.
Travel has immeasurably given Ducasse a wider perspective on food. "I don't play favorites when it comes to the countries I've visited," he said. "In my opinion, each country has its own fascinating culture, which I think is essential for culinary success."
To illustrate his point, he said that while looking at the culinary practices of various countries is okay, it's still best for an aspiring restaurateur to bank on his home country's seasonal produce and cuisine, applying foreign techniques only when and where applicable. "It's a big decision to do so," he urged. "Like in fashion, it's better to create something than to follow something."
On a larger scale, this go-local approach reflects the world's efforts into practicing environment-friendly measures. "As far as I'm concerned, there's going to be an emphasis on cuisines that care for limited natural resources. This means that more vegetables and fruits are going to be used while there's going to be less consumption of livestock," said Ducasse, who also advocates sustainable development. "I think, for example, it's not sensible for a fish to travel 12,000 miles via plane or ship just to cater to the market across the seas."
What does it feel like to be such a global success, with his Michelin-starred restaurants and celebrity status? Ducasse was thoughtful for a moment, as if looking for answers. "I travel a lot but what I'm doing is just a hobby more than anything else," he said. "I think there will come a time I will have to look for a serious job."